T-AccessQ
T-CentralQ
T-MemberQ
T-PassQ with server
T-Qrl with server
AccessQ – Fingerprint Biometric Access to Secure Areas
AccessQ™ Premises Access
Don't open the door to unauthorized access~
AccessQ fingerprint identification can be a secure, convenient, and cost-effective alternative to passwords, badges, swipe cards and PINs. The biometric reader mounts on a wall near your secure door. These biometric fingerprint scanners offer various levels of authorization for an individual. This authorization includes a scheduling mechanism for allowing access for individuals based on the time of day.
Unlike systems that require proprietary networking, AccessQ uses your existing local area network.
Uses of AccessQ:

Homeland security needs for state and municipal governments including protecting water supplies and other utitilities
Computer rooms with sensitive data
Medical records and facilities meeting HIPPA requirements
Facility management for doorways, office buildings and factories
** The CentralQ Manager for AccessQ is included with every AccessQ implementation. With the CentralQ core, it is easy to utilize your existing fingerprint profiles. Simply add new software modules as you need them.
Benefits

| | | |
| --- | --- | --- |
| | | Increase security levels. Unlike a card or badge, a fingerprint can't be lost or stolen. |
| | | Reduce overall system cost in eliminating portable devices and reducing administrative time. There is no need to track down or reprogram ex-employee cards and id badges. |
| | | Convenient. No more fumbling for keys and cards. Never have to worrry about misplacing them. |
| | | Indoor/Outdoor design is weather resistant. The steel enclosure makes the device extremely durable. |
| | | Centralized fingerprint profile management software allows quick and painless changes to authorization levels of individuals. A fingerprint profile can be simply deleted or authorization variations can be easily modified without having to reprogram anything. |

Features

Fingerprint Biometrics for Authorizations

Minimizes problems associated with lost or stolen portable devices.

Network Ready

AccessQ devices can be networked together so that the system can be controlled and maintained from a central location.

Scalability

AccessQ allows for an almost unlimited number of people to any number of devices.

Centralized Management

As a core component of CentralQ, AccessQ allows a single point of control for administrators to modify access to all devices and resources.

Control Access Remotely

Ability to control access to remote locations.

Single Enrollment

With a single one-time enrollment, administrators can apply a fingerprint profile to as many or as few networked AccessQ devices. There is no need to enroll an individual at multiple devices on a network.
If you think your business is safe from borrowed identification badges, counterfeit swipe cards, and simple thieves, then think again. Your resources – whether they are expensive computer systems, prescription drugs, or confidential information – are too valuable to trust to yesterday's security systems. In a world where security and convenience are a necessity, biometrics can be used as a much more secure solution for access control and proof of identity.
CentralQ – Centralized Biometric Control

CentralQ is the core system that brings together multiple biometric access systems such as AccessQ, MemberQ, and PassQ. A CentralQ deployment utilizes an employee's enrollment of a single fingerprint, referred to as a "fingerprint profile", to allow or deny access to applications, access control devices and other company resources on your network.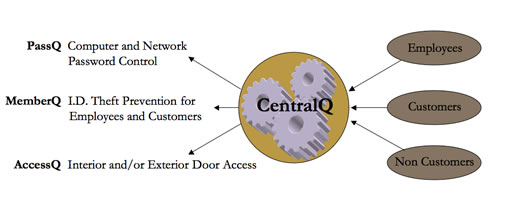 CentralQ Server provides a fingerprint repository for the centralized management of enterprise resources that are biometrically controlled.
Secure –

 Fingerprint biometrics securely allow or deny access to company resources.

Easy to Manage –

 CentralQ Manager provides centralized management of fingerprint profiles to company resources such as computers, secure doors, vaults, latched enclosures and time/attendance.

Convenient –

 An employee is no longer responsible for passwords, swipe or proximity cards, PINs, or keys. They only have to remember to bring their fingerprint!
Benefits

| | | |
| --- | --- | --- |
| | | Biometrically secure, monitor and control access to company resources. |
| | | Cost efficient CentralQ Manager provides a single point of control for administrators to modify access to all devices and company resources. No need to learn or enroll into different biometric applications from various vendors or manage separate fingerprint profile databases. |
| | | Easily utilize existing CentralQ fingerprint profiles. Simply add new software modules as you need them. |
| | | Eliminate the security risks of written down passwords, forgotten PINs, stolen or lost keys, and borrowed access cards. |
| | | Easy to enroll and use fingerprint profiles. |

Features

Expandable System

With the CentralQ core technology, easily add on existing modules as needed.

Single Enrollment

With a single enrollment, administrators can utilize the fingerprint profile for multiple applications.

Scheduled Access

CentralQ Manager allows administrators to authorize individual access to select resources for a very specific period of time.

Flexible Time Configuration

Allow or deny access with varied time schedules by day, by hour, by minute. Easily reuse defined time schedules. In one step, modify an existing time schedule for a group of individuals.

Multiple Security Levels

Allow access by PIN code, a fingerprint, more than one fingerprint, or a PIN code AND fingerprint.

Real Time Access

Changes to access rights and security levels are enforced in real time.
CentralQ's single biometric system is less expensive and less time consuming than maintaining multiple disparate access control systems from various vendors (i.e. one system for computers from manufacturer A, one for doors from manufacturer B, and another for time and attendance from manufacturer C). 
Your company's most valuable intellectual property resides on personal computers, servers, networks, and behind secured drawers and doors. If you're still using passwords, PINS, or magnetic/proximity cards to secure or monitor access, your assets are seriously at risk. 
MemberQ

Identity Theft Protection for Members and Customers

As consumers become more aware-and more fearful-of the growing danger of identity theft, they're also becoming increasingly frustrated with the number of passwords, PINs, account numbers, and access codes they are required to remember which are designed to keep their identity secure. Besides having to remember this information, individuals are further burdened with the necessity for carrying bank cards, proximity cards, badge swipes, etc. With MemberQ fingerprint recognition, you can offer your members or customers a convenient solution to these issues as you also protect your company or organization from fraudulent transactions.In a world where passwords and PINs are becoming obsolete and identity fraud is one of our fastest growing crimes, biometrics is the ultimate authentication. MemberQ biometric software and fingerprint readers are easily networked and integrated with existing systems, and compared to the cost of teller-to-teller verification or obsolete inkless systems, are surprisingly affordable.

Benefits

| | | |
| --- | --- | --- |
| | | Add a fingerprint biometric front end to any windows or browser based application. |
| | | No integration is required. The software is designed so that your days of relying on a programmer to "integrate" into your system, are over. |
| | | Reduce costs by eliminating membership cards. Use fingerprint authentication instead. |
| | | Eliminate the fraudulent use of someone's membership by truly authenticating the individual requesting virtual or physical access. |
| | | Speed and convenience for your members. Quickly allow customers to authenticate themselves by eliminating the need to look for a membership card or even bring one. |

Features

Patent Pending Biometric Algorithms

Our proprietary method of matching fingerprints is an industry leader and has been thoroughly tested in real life situations across the country.

Scripting Technology

Our scripting capabilities allow us to associate a fingerprint with a specific identifier and then automate the function of pulling up the member's or customer's data.

Customer Notes Field

Attach a permanent note to a specific fingerprint so that each time that member comes to your facility, your employees will see a specific note applicable only to that customer.
PassQ with CentralQ Server – Password Elimination for the Enterprise

PassQ Server eliminates passwords and PINs by providing network domain controller logon using biometric fingerprint recognition. PassQ's centralized server software allows IT administratiors to manage fingerprint profiles in a single place so if an employee leaves an organization, that fingerprint profile can be removed from the entire network immediately with a single keystroke.
Cost effective, easy to maintain and user-friendly, CentralQ Server offers the ultimate protection for sensitive data whether your network has 2 workstations or 10,000. Each PassQ client also works as a reliable authentication mechanism for a single, stand alone computer that is not networked. 
Benefits

| | | |
| --- | --- | --- |
| | | Protect individual PCs and network access. |
| | | Allow logon to any workstation on the network. |
| | | Reduce IT helpdesk calls for password resets. |
| | | Authenticate who is accessing what PC, network, and application with exceptional accuracy. |
| | | Associate a single fingerprint with as many or as few passwords or PINs on a system. |
| | | Protect passwords from most key logging viruses. |
| | | Eliminate the security risks of written down passwords and PINs. |
| | | Prevent stolen or borrowed passwords. |
| | | Easy to use and enroll fingerprint profiles. |
| | | Easy installation. |

Features

Centrally Managed Fingerprint Profiles

The CentralQ Manager console lets you manage the company's fingerprint profiles and associated Windows accounts, view log files and change system settings. Administrators can manage all profiles in the system in one place.

Network Password Management

Centralized password management for networks of any size. Allow PassQ clients to logon with their standard password or choose to disable it. Require PassQ clients to logon with only a fingerprint logon for greater security.

Randomized Passwords

Passwords may be randomized for greater security.
PassQ Server – System Requirements

OS

:
Windows 2000 or 2003 Server Platform

System 

:
Primary Domain Controller (PDC)

CPU 

:
Pentium Class or Faster

RAM 

:
64 MB, 128 MB recommended

Disk Space 

:
6 MB

Network 

:
TCP/IP connectivity to PassQ Clients.
Note: PassQ Server can run on the same machine as PassQ Client.
Qrl – Remote Network Access using Fingerprint Recognition

Qrl allows companies to offer another level of security to customers, employees, and vendors that use the Internet or Intranet to communicate. How do you know that the other person on the other side of that internet connection is really who they say they are?
If you are a bank – how do you know the person doing the wire transfer or cash transfer is really who they say they are?
If you are a higher learning institution – how do you know that the person taking this final exam or licensing exam via the internet is really who they say they are?
Qrl will secure identities before data is transferred to and from an Intranet, Internet or other type of remote location. Because security is weakest at the remote computer, Qrl works with a web browser at the server level. Qrl captures the user's fingerprint on a lightweight fingerprint reader at the local machine and then translates and encrypts the biometric data to be sent to the server for authentication. The authentication takes place at the website's host environment versus the local machine – behind appropriate security and firewall technology. No record of PINs, passwords, or biometric data resides on the local computer.
Click the diagram above to see the full image.
Benefits

| | | |
| --- | --- | --- |
| | | A truly secure method of securing electronic transactions – Biometric authorization takes place at the host website's secure environment – not at the local machine where password and PINS can be entered by anyone. |
| | | Easy to install for end users – By installing a small Internet Explorer plug-in and the software driver for the biometric reader, an end user is now ready to go. A Qrl biometric reader plugs into an available USB Port on the end user's computer. |
| | | Fosters goodwill by providing your customers and employees with the electronic security and "peace of mind" because you show the utmost importance for their secure transactions. |
| | | Spend less time and less money chasing fraud. QRL allows yo to be proactive and prevent Internet fraud before it happens. Prevent transactions from taking place unless they are biometrically authenticated. |

Features

Minimal Installation Required

The reader and a small Internet Explorer plug-in is all that is required on the end user's side.

No Authorization Data Resides on Local Machine

Since authorization takes place at the host website's server, there is nothing for hackers to steal from the local machine.

Server Based Software

The Qrl authentication server sits behind your firewall within your IT department. Therefore, the authentication of your customer, employee, or vendor takes place not on the end user's machine where fraud cannot be controlled, but rather within your IT infrastructure security.
Keystroke logging, adware programs, and trojan viruses are used by hackers to steal the data needed to conduct fraudulent wire transfers, credit card purchases, online banking or other electronic business. And, password overload leads to security lapses as passwords and PINs are lost, forgotten, or compromised.